Import Specialties can handle all Bentley repair needs for owners across South Carolina, North Carolina, and Georgia. Bentleys are precision-crafted European automobiles that offer ultimate luxury and extremely high performance. However, they can be especially demanding vehicles to own. The highest level of performance requires a commitment to regular maintenance and care.
Our Bentley Repair Services for SC, NC, GA
Import Specialties has experience with Bentley repair and servicing of VW era Bentley's including Continental GT, Continental Convertible & Flying Spur.  We have performed over 180 jobs on Bentley's from window repairs to engine replacement.  We regularly provide service and repairs for Bentley owners around South Carolina, North Carolina, and Georgia.
The Bentley models we commonly service here at Import Specialties inclue the following:
Bentley Arnage (1998 – 2009)
Bentley Continental GT (2003 – 2011)
Bentley Continental Flying Spur (Gen 1) (2005 – 2013)
Bentley Azure (Gen 2) (2006 – 2009)
Bentley Brooklands (Gen 2) (2008 – 2011)
Bentley Continental GT (Gen 2) (2011 – 2018)
Bentley Flying Spur (Gen 2) (2013 – 2019)
Bentley Mulsanne (2010 – 2020)
Bentley Bentayga (2016 – 2020)
Bentley Bentayga (2020 – Present) *facelift
Bentley New Flying Spur (Gen 3) (2019 – Present)
Bentley Continental (Gen 3) (2018 – Present)
Bentley Continental GT Mulliner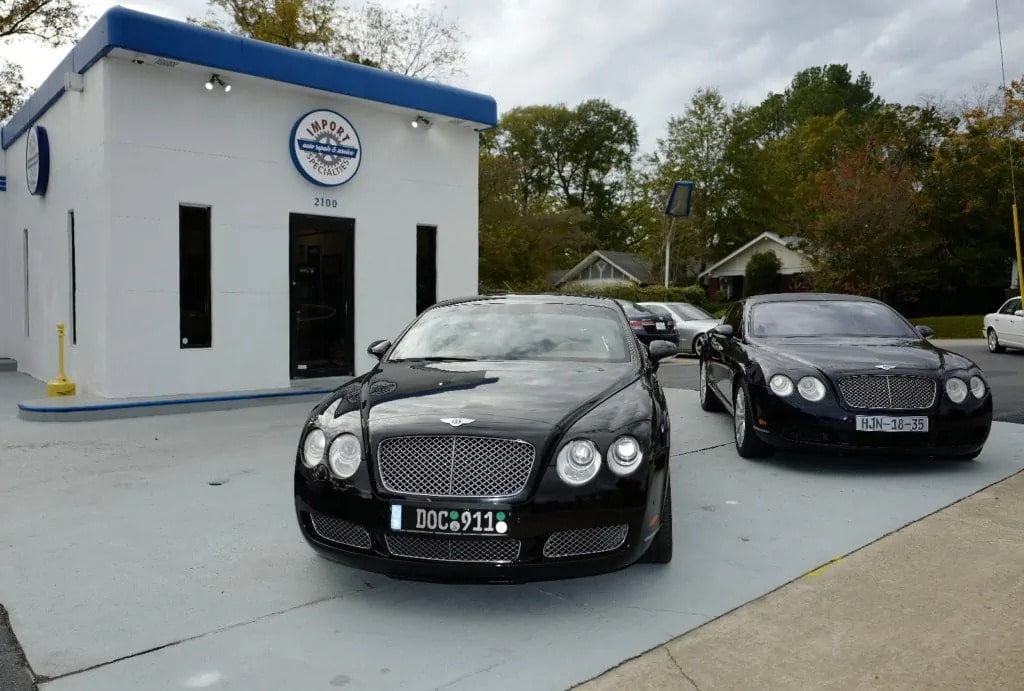 Request a Bentley Repair Quote
For South Carolina, North Carolina, & Georgia
Quick Turnaround
Highly qualified, professional Bentley repair technicians work together to perform your Bentley service and Bentley repair on time, as estimated. We have the special Bentley service tools to perform Bentley repairs quickly, and correctly. Contact us or Request A Quote here on our website anytime.
Diagnostic Expertise
Bentley factory diagnostic tools and years of experience with European auto repair help us quickly and accurately diagnose Bentley problems and recommend necessary Bentley repair and service options.
Scheduled Maintenance Repairs
Whether you need a routine Bentley oil change or a Bentley Major Service rest assured our certified auto repair technicians have the skills and tools needed to be your Bentley dealership alternative. We offer professional maintenance and service for all Bentley models.
Dealership Alternative
Dealerships often have much higher pries, longer turnarounds, and impersonal service. We take provide in providing exemplary service and top-quality repairs, all at reasonable prices.
Common Bentley Problems
Bentley vehicles are well regarded for their elegance and performance, but they can be very challenging cars to own unless you properly care for them. To ensure the vehicle continues to operate at its maximum, it's essential to provide regular care and proper servicing. Otherwise, mechanical issues can begin to cause problems for your Bentley.
Here are some of the more common Bentley repair challenges that affect models we fix here in our shop.
Bentley Oil Leaks
Bentleys are known for their ability to leak oil. If you are experiencing an oil leak, we can perform a basic diagnostic to determine the exact problem. We will start with a basic visual inspection to see if we can determine where the leak is coming from. If we need more diagnostic time for cleaning the engine, removing parts, or a related Bentley repair, we will explain the issue to you, and be sure to get your full approval before we proceed.
Bentley Engine Problems
One of the significant Bentley repair problems is gasket leaks in the engine. It is an expensive fix and does require some meaningful work to replace. Other common Bentley engine problems are issues with the turbo oil pipe and vacuum, cooling fan issues and corrosion on the radiator. Overall, the Bentley engines are nothing short of spectacular, but due to the car's high-performance nature, things can go wrong regularly if not diligently maintained. We will check the coolant to see if it has any contamination and if the radiator has any corrosion.
Bentley Brake Hoses
Many of the Bentley's orginal brake hoses will wear down quicker than other OEMs. It will depend on your exact model, but most Bentley's will call for replacing the brake hoses every five years, or so. The reason for this is related to the vehicle's performance nature. Bentley brake hoses take a serious beating and thus need to be replaced more often.
Bentley Power Steering Leaks
A Bentley repair recall alert was issued for the Bentley Continental Supersports 2017-2018 models. The power assisted steering cooler pipe may be the wrong size which would cause the cooler hose to detach thus leaking power steering fluid. A power steering leak can cause you to lose control of the vehicle and dangerous to following or oncoming traffic. This Bentley repair is fairly straightforward to diagnose, so if you own this Bentley model, please call us to schedule an diagnostic inspection.
Bentley Suspension Issues
Bentleys utilize a complicated air suspension system that ensures these luxury vehicles ride smooth, no matter the surface. However, with this cloud-like suspension comes significant issues if the suspension system is wearing. These problems are quick to happen, and owners will have to be aware of a problem's signs. We can perform a full diagnosis and support of air suspensions, air struts, and air springs.
One of the tell-tale signs a Bentley repair for suspension problems is that one of the car ends will be lower than the other, usually the front. You will need to catch this as soon as possible, as if left untreated, it could lead to a destroyed compressor. A destroyed compressor means that you will get to experience a Bentley air suspension failure. It is an expensive fix and will require more than a few days in the shop.
Test the adjustable air suspension regularly. Maintaining movement in the suspension ensures flexibility in the rubber materials and help prevent the pneumatic parts, valves and sensors from failing due to lack of use. Listen for air leaks coming from the shock area and check for warning lights on the console. Addressing these issues early may help prevent additional damage to surrounding parts in the vehicle.
Bentley Electric Window Issues
Indeed, one of the Bentley azure problems is window issues, affecting the entire Bentley line of vehicles. Unlike other cars, which will provide you with a warning light or some additional warning, Bentley windows do not have such a mechanism. Instead, you will know that your window is starting to fail when the window makes a distinct and very audible hissing sound. When you begin to hear this, you need the correct Bentley repair to correct the problem.
The window motor causes the hissing sound as it ages and generally can be replaced with ease. However, the fix might not be as simple as swapping out a motor, as the entire lifting mechanism has been known to fail in all Bentleys. Again, at the first sign of this issue, please contact us to schedule the correct Bentley repair.
Bentley Maintenance Guidelines
Once a Year, or Every 10,000 Miles
The guidelines are simple and the brand makes it easy for you during the first year. Once a year, or every 10,000 miles, Bentley recommends a synthetic oil change. We use Motul synthetic oil, change the filter, rotate tires, and replace the in-cabin pollen filter. We also address the windshield wipers and the key fob battery. In addition, your Import Specialties mechanic will perform a thorough check of all vehicle mechanicals. These checks will include an inspection of the brake pads and discs, all fluid levels, a visual inspection for leakage, and a suspension component check.
Following the vehicle check, our customers will be informed of any parts of their Bentley that are not up to the vechicle manufacturer's specifications, at which time we will provide an estimate for any necessary Bentley repairs or services.
A Brief Summary of Bentley's Long History
At the end of World War I, January 18, 1919 Bentley Motors Limited was formed. September 1921 the first Bentley cars were delivered with an innovative four-valve-per-cylinder engine. The durability of the first Bentley's was widely acclaimed. These cars competed in hill climbs and raced at Brooklands, the world's first purpose-built 'banked' motor racing circuit.
Supported by "The Bentley Boys" Bentley kept a reputation for high performance and was noted for it's four consecutive victories at 24 hours of Le Mans, from 1927 to 1930.
In 1931 Rolls-Royce took over the assets of Bentley. From 1931 to 2004 Bentley used the Rolls-Royce Chassis and adapted RR engines. The Bentley's were described as badge-engineered Roll-Royce's. In 1980 the Bentley division was purchased by Vickers plc, the now defunct defense, engineering, marine engineering company. Under Vickers, Bentley regained its high-performance heritage with the 1980 Mulsanne. From 1980 to 2003 Bentley produced the Continental Convertible, Turbo, the Mulsanne S Turbo R, Continental R, S & T, Brooklands R and other RT Mulliner.
In October, 1997, Vickers Sold Rolls-Royce Motors. Bentley was outbid by VW. Bentley and VW agreed that from 1998 to 2002 Bentley would continue supplying engines and components. All Bentley engines supply ended in 2003.
From January 1, 2003 forward, Volkswagen AG would be the sole provider of cars with the Bentley marque. Bentley established a new legal entity, Rolls Royce Motor Cars Limited in Goodwood, West Sussex England. VW invested about $2 Billion in Bentley and its revival.
NOTE: Our company and our website are in no way associated with Bentley Motors.