Mercedes-Benz Repair & Service
Mercedes-Benz Auto Service in Columbia SC
Import Specialties of Columbia is your Columbia SC Mercedes-Benz repair shop. We work on more Mercedes-Benz than any other make. We have Mercedes-Benz repair technicians with the training, knowledge, and experience to service or handle Mercedes-Benz repairs. Our Mercedes-Benz repair mechanic performs all repair and service from A-service, B-service, Mercedes-Benz brake repair, Mercedes-Benz transmission repair to Mercedes-Benz engine repair.
Our Services
Mercedes-Benz Repair and Services for all models
Mercedes-Benz A-Class | Mercedes-Benz B-Class | Mercedes-Benz C-Class | Mercedes-Benz CL | Mercedes-Benz CLA | Mercedes-Benz CLS | Mercedes-Benz E-Class | Mercedes-Benz G-Class | Mercedes-Benz GL | Mercedes-Benz GLA | Mercedes-Benz GLK | Mercedes-Benz M-Class | Mercedes-Benz R-Class | Mercedes-Benz S-Class | Mercedes-Benz SL | Mercedes-Benz SLK | Mercedes-Benz SLS AMG | Mercedes-Benz Viano
Service A
The frequency with which you will need Service A varies based on where you drive, how you handle the vehicle, and other factors. Typically, a Mercedes made after 2009 will need this service after its first year or 10,000 miles on the road, and then again after every 2 years or 20,000 miles. Service A involves:
Replacing the vehicle's oil filter and synthetic motor oil
Checking all fluid levels and correcting them as recommended by the factory
Checking and correcting tire pressure
Inspecting the brakes for component problems
Resetting the counter for the next Service A visit
Replace Wiper Blades
Cabin Dust/Combination Filter Replacement
In performing Service A, Import Specialties will take into account your vehicle's specific features. We identify its model and production year, obtain the relevant service sheet, and service it accordingly.
Service B
The need for Service B, like that for Service A, varies with the vehicle's specifics. Most Mercedes models manufactured after 2009 will need it after the first year or 20,000 miles, and then every 2 years or 20,000 miles after that. Service B involves:
Replacing the oil filter, synthetic motor oil, and combination or cabin dust filter
Exchanging brake fluids and inspecting brakes for component problems
Inspecting and correcting tire pressure
Checking fluid levels and modifying them according to the manufacturer's instructions
Resetting the counter for the following Service B visit
Further Features
The Flexible Service System works somewhat differently for Mercedes models that run on diesel. Though the average intervals for Service B are the same, diesel vehicles require additional services, including:
Replenishing your supply of AdBlue fluid
Replacing your fuel filter as specified by the model's maintenance manual
Transmission Service may need to be done. This includes replacing the transmission fluid and filter.
Performing all other repairs specific to your vehicle's model and year
Certain Mercedes vehicles, notably those made in 2015, those with V12 engines, and those produced by AMG, have unique service needs. Make sure to inform us if you have such a vehicle and follow their instructions for maintaining it.
---
Why Choose Us For Mercedes-Benz Repair in Columbia SC, Forest Acres, West Columbia, or Northeast Columbia??
Trust your Mercedes-Benz repair to the specialists at Import Specialties of Columbia SC. We follow Mercedes-Benz repair factory scheduled Maintenance Services that protect your new car warranty.
Our certified technicians know Mercedes-Benz inside and out. We utilize the latest diagnostic tools, service and repair techniques to keep your Mercedes-Benz performing in peak condition.
Our high level of Mercedes-Benz repair training and extensive collection of Mercedes-Benz tools and diagnostic equipment ensures high quality work and complete customer satisfaction.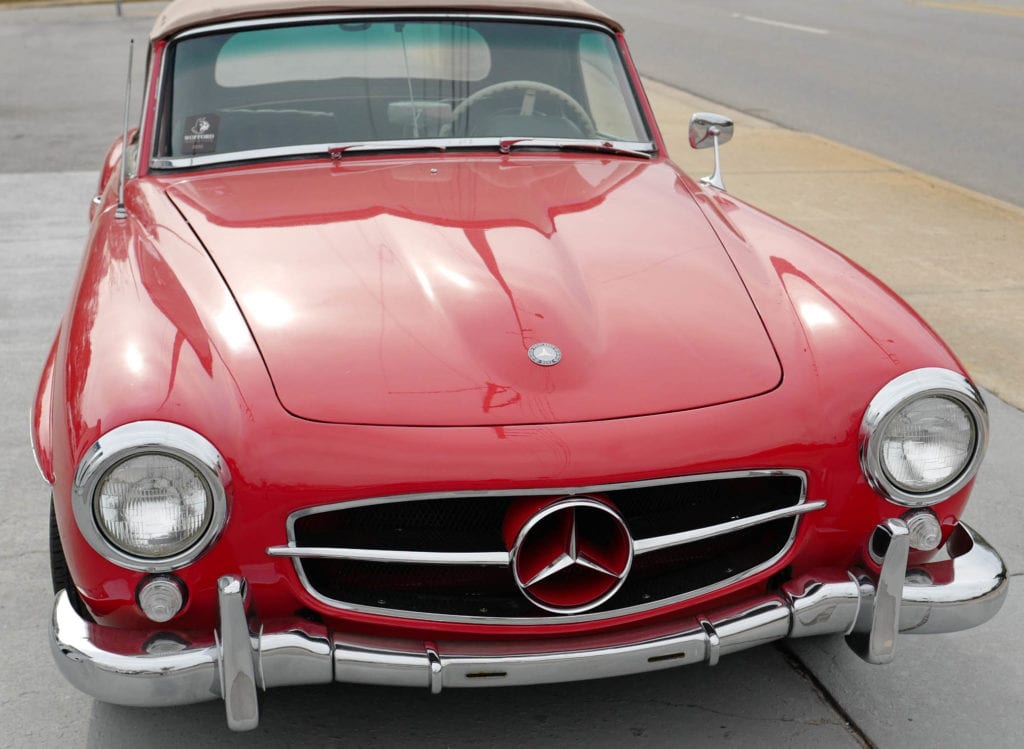 ---
Common Mercedes-Benz Problems
Engine Mounts
Engine mounts on Mercedes-Benz cars are oil-filled. Their main purpose is to keep the engine vibrations from being transmitted to the cabin. Because they are oil-filled, around 100,000 miles, they start to fail and lose the oil. When the engine mounts fail you may notice excessive vibration on the seat, in the cabin, and even on the steering wheel…Replacing the motor mounts can take between 4 and 6 hours of labor.
Suspension & Steering Components
Ball joints, sway bar link, and control arm bushings on Mercedes-Benz wear out much sooner than you would expect. This is based on our experience with Mercedes-Benz. Import Specialties will inspect your Mercedes Suspension & Steering components for wear and looseness and make recommendations as to what work needs to be done to your car.
Window Regulators
Window regulators do the hard work when you press the button to lower or close the windows. They do tend to fail more on Mercedes-Benz ML-Class and C-Class based on our experience. Window regulators don't fail on Mercedes-Benz cars only. They are a common problem on BMW, Lexus, and Audi. When you have a problem with a window Import Specialties can replace your window regulator as needed.
Air-Matic Components
The first Mercedes-Benz models that had air suspension were the S-Class W220 in 2000 and later the E-Class W211. The air-matic bags replace the struts and shocks on your Mercedes-Benz. AirMatic is an excellent feature added to higher end Mercedes-Benz models, but it was also prone to failure.. Not all Mercedes-Benz cars are equipped with air suspension, so this doesn't apply to all MB models. Air suspension components that fail the most are:
Suspension Air Compressor and Relay
Air Suspension Strut / Bag
Catalytic Converts
Catalytic converters are prone to failure. We have seen a few Mercedes-Benz needing new catalytic converters at 60,000 miles. As the catalytic converter may become less effective or clogged, the oxygen sensors may trigger the check engine or service engine light. As the catalytic converter's condition worsens you may also notice performance issues, misfire, and hesitation. Replacing the catalytic converter can be very expensive.
Transmission Problems
Mercedes transmissions are very well built and robust. But…a chain can be as long as its weakest link, and that philosophy applies to a Mercedes-Benz transmission. While the transmission in itself is bulletproof the 13-pin connector and the valve body issues have caused problems for Mercedes-Benz. The good thing is that these Mercedes-Benz repairs are relatively inexpensive and can be completed without removing the transmission.
---
Warranty
Having Import Specialties of Columbia work on your Mercedes-Benz in NO way limits or restricts your new car warranty. All that is important is that you service your vehicle. By law, having your vehicle serviced by the Mercedes-Benz repair dealer is not required.
Import Specialties of Columbia specializes in German auto repair and European auto repair in Columbia SC. Contact us to discuss more about your Mercedes-Benz repair and services.
NOTE: This company or website is in no way associated with or represents the Mercedes-Benz U.S.A. company.