Our technicians at Import Specialties in Columbia, SC specialize in Porsche repair for owners across South Carolina, North Carolina, and Georgia. We have the training, knowledge, and experience to repair or service all Porsche models. Our Porsche mechanics perform all Porsche repair, service, and maintenance with Porsche approved tools and parts and procedures.
Trust your Porsche repair to our Porsche specialist shop at Import Specialties of Columbia, SC.
Our Porsche Repair Services for SC, NC, GA
Porsche is one of the most iconic vehicle makes in the world. They are well known to automotive enthusiasts around the world for their prestige, performance, history, and style. To keep your Porsche in peak operating condition, you need to ensure it receives regular maintenance and inspections. We proudly offer a comprehensive suite of Porsche repair, maintenance, and preventive services to ensure the maximum performance and life of your vehicle. We even love getting under the hood for the toughest Porsche problems that non-specialty auto shops will not bother to touch.
We offer Porsche repair and services for all Porsche models, including 911 (all models), Boxter, 914, Panamera, Cayenne, Macan, 944, and 928. Our Porsche repair services are specialized for models that are out of production as well as those which are still in production today:
Still In Production
Porsche 911
Porsche 718 Boxster
Porsche 718 Cayman
Porsche 718 Spyder
Porsche Taycan
Porsche Panamera
Porsche Macan
Porsche Cayenne
Out of Production
Porsche 356
Porsche 550
Porsche 904
Porsche 906
Porsche 912
Porsche 914
Porsche 930
Porsche 924
Porsche 928
Porsche 944
Porsche 959
Porsche 968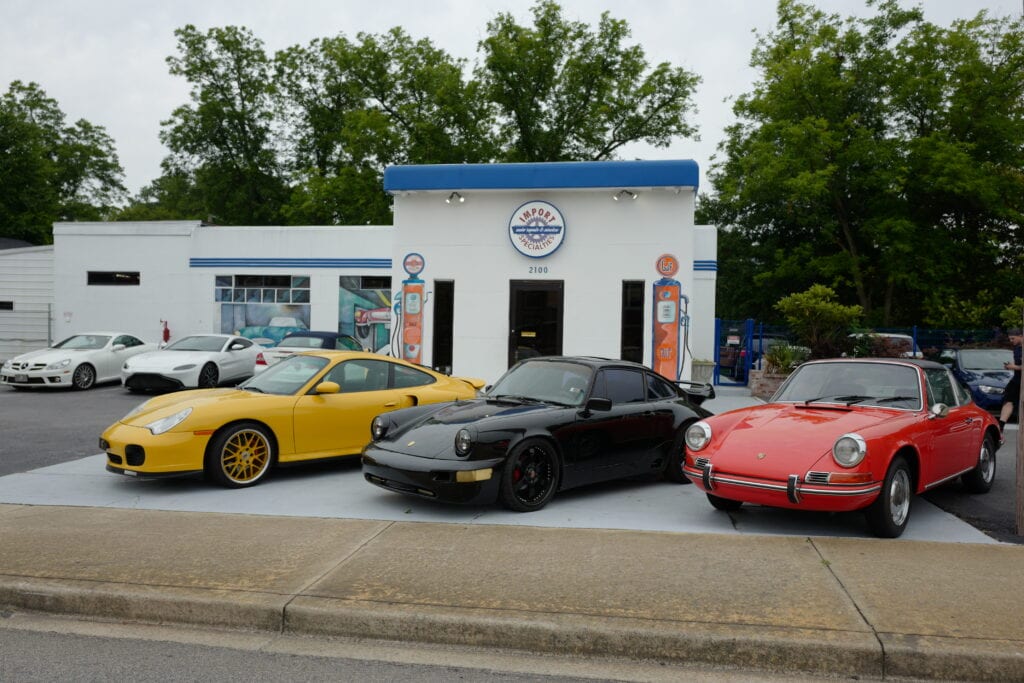 Why Choose Us For Porsche Repairs in Columbia, SC, NC, and GA?
Certified Porsche Technicians
Our certified technicians know classic and modern Porsche repair and services extremely well. Our extensive experience combined with the latest diagnostic tools, service and repair techniques will keep your Porsche performing in peak performance.
Training & Equipment
High performance import cars have been our area of focus and passion in South Carolina, North Carolina, and Georgia since 1974. Our high level of training and extensive collection of Porsche repair tools and diagnostic equipment ensures high quality work and customer satisfaction for every car we service.
European Auto Specialists
Import Specialties of Columbia specializes in European auto services. Our mechanics have the training, experience, and tools to perform all types of repairs and maintenance. Contact us or Request A Quote here on our website anytime about any of your Porsche needs, and we will be glad to assist you.
Mechanical Restoration Capabilities
Beyond our repair and maintenance service offerings, we also specialize in mechanical restoration of vintage and/or damaged vehicles. This allows us to rebuild critical mechanical components of your car that might otherwise render the car inoperable or incapable of performing optimally.
---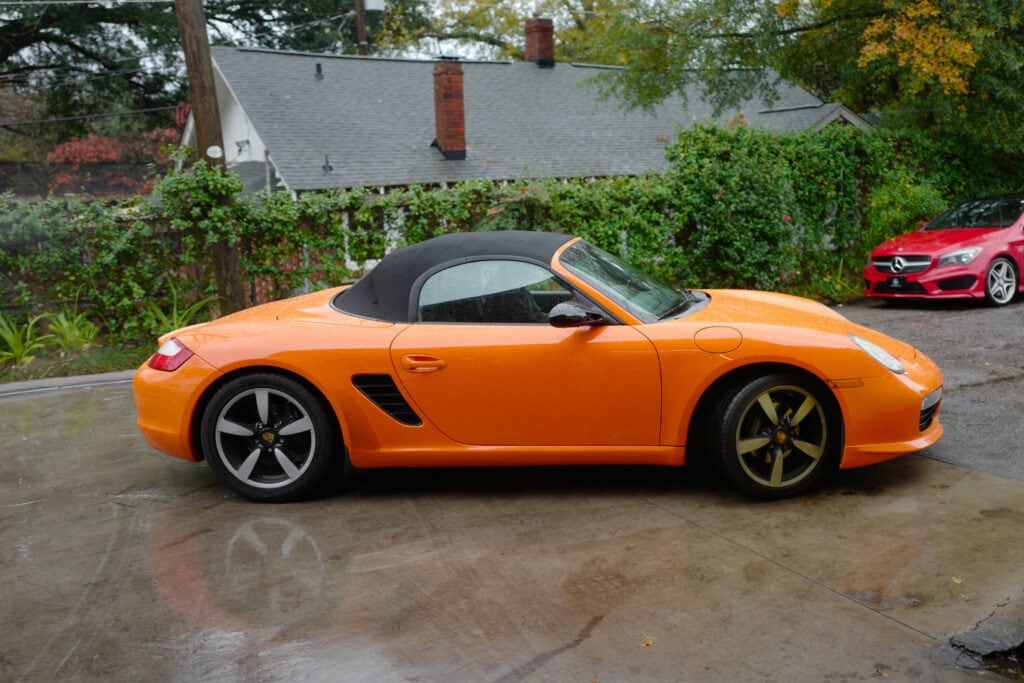 Common Porsche Problems
A Porsche is a high-performance machine, and therefore it can experience common problems based on its model type and year of production. As a Porsche owner and enthusiast, there is a good chance that you are already very familiar with the typical issues that can occur with your model. These challenges are commonly discussed and debated in online forums and local Porsche Club gatherings with other owners.
Regardless of whether you are well-versed in common Porsche repair problems, or you are a new owner who is simply less knowledgeable about the technical problems that can occur with a Porsche, we are here and proud to help bring your car back to life. We are even knowledgeable on air-cooled Porsche repair. If you have a problem with your Porsche, chances are Import Specialties has the knowledge, tools and experience to fix the problem.
Air Oil Separator (AOS) Failure
The AOS can cause several issues on Porsche engines. One of the most common indicators is huge quantities of smoke coming out of the engine. The oil fill cap can also become hard to remove due to the high levels of vacuum in the engine.
The best way to avoid this problem is to follow your maintenance schedule as advised by your manufacturer or mechanic. Detailed information regarding this should be available in your owner's manual. Any additional questions can be directed to your Porsche service provider. (Hopefully Import Specialties!)
Smoke on Startup
An extended puff of smoke as you start your cold engine can be a sign of wear and tear in the cylinders and can get worse with the mileage. Another possible cause is a bad AOS. One of the things that can help with this is the replacement of the fuel injectors. When fuel injectors are leaking or worn out, it can cause fuel to stay in the intake path.
White smoke indicates a coolant leak since it's a water-based solution, while blue or gray smoke is a sign of a possible oil leak. Black smoke is the most concerning type since it could mean leaking fluids, clogged or dry air filters, air oil separator issues, a faulty gasket, faulty sensors, bad fuel injectors, or a broken engine component. The best way to address the issue is by visiting a Porsche expert, since smoke results from different system malfunctions.
Intermediate Shaft (IMS) Bearing Failure
If you buy a Porsche 911, Boxster, or Cayman from 1997 to 2008 with an M96 or M97 engine, then your car runs the risk of IMS bearing failure. These Porsches house an older engine design in which the bearing links the crankshaft to the camshaft via chains. These parts can wear more quickly than the engineers planned, but do not worry, here at Import Specialties, we have the know-how, experience, and tools to quickly fix these problems.
The original IMS bearing has a design flaw stemming from Porsche's transition from air-cooled engines to water-cooled units. If you get a model with the original design, the IMS would require regular and constant lubrication since it relies on internal grease. Otherwise, the grease breaks down over time and wears away, resulting in IMS-bearing failure. Nonetheless, several companies resolve this issue with more robust, longer-lasting IMS-bearing versions.
Timing Chain Complications
Many enthusiasts recognize the 911 as one of the world's most iconic sports cars. However, models produced between 1964 and 1983 came with an unfortunate weak spot. The flat-six engines from that period employed a closed unit timing chain tensioner.
When the seals fail, the tensioner loses pressure and collapses, allowing the timing chain to slacken. If you are unfortunate to land on a Porsche 911 with original timing chain tensioners, consider retrofitting a chain tensioner from a 1984 or later Carrera model. These tensioners boast a constant supply of pressurized oil, meaning far fewer complications. Our technicians know the correct methods and procedure to handle this Porsche repair for you and get you back on the road.
PDK Issues
The Porsche Doppelkupplungsgetriebe, or PDK, is an automatic double-clutch transmission. The unit consists of an automatic dual-clutch front and a rear manual transmission section. Although the rear manual transmission is generally reliable and solid, the automated front section has most of the PDK's issues.
Most PDK issues appear as a collection of warning lights that sometimes result in the car's refusal to do anything. Although most people prefer to replace the PDK, this is more costly than replacing parts and digging deeper for root causes. PDK issues can be traced to faulty transmission Control Modules, problems with the mechatronic unit, sensor failures, or a worn-out clutch. We are happy to help you with diagnosing and fixing this Porsche repair.
Cracked Cylinder Liner
One of the biggest pitfalls in owning a Porsche with an M96 or M97 engine is the possibility of getting cracked cylinder liners. Half of each cylinder bore in these engine cases has a liner or a one-piece sleeve that becomes prone to micro-fracturing over time.
A cracked lining issue could appear in several ways, ranging from compression loss, overheating, and oil consumption. Diagnosing a cracked cylinder is complicated, since the fracturing can take a while before eventually showing up as a major problem. Due to this complexity, frequent overheating, high oil consumption, and unexplained compression loss should prompt close engine inspection for cracks. If your car expereniences any of these symptoms, give our Porsche repair shop a call.
Check Engine Light
The On-Board Diagnostic (OBD) system is present in all vehicles built after 1996 and is an excellent early-warning system to prevent running an engine that is experiencing technical issues. Although the light is a scary thing to see on your dash, it just means that the OBD sensor has detected a problem within the vehicle and you should probably stop driving for the time being until you figure out the problem and fix it.
OBD systems usually present error codes to make it easier for your technician pinpoint the problem. Cylinder misfires, component or sensor failure, fluid levels, and poor running are among the more common faults you might experience. Regardless of the Porsche repair reason that your check engine light is firing, we will be glad to assist you.
Climate Control, HVAC
Climate control in the cabin is a blessing; thus, it's annoying and almost unbearable when the system no longer works properly. Cabin temperature has become such a crucial part of everyday driving that it is near impossible to ignore. Luckily, as opposed to various systems in a Porsche, a faulty climate control module is easy to detect.
Early warning signs include inconsistent airflow whereby some vents disperse air less efficiently than others, and issues with reaching or retaining the desired temperature levels. The climate control module could fail due to outdated software that requires an upgrade or electrical problem with components such as wiring and sensors. Visiting a specialist is the sure way of getting an accurate diagnosis.
Heating and AC systems are similar or most car types and makes. These problems can arise at any time and make your day miserable. AC service and maintenance can make sure all the components of the system are in top working order. The components include the compressor, condenser, dryer, blower motor and others.
Convertible Tops
Many times, if you decided to go topless with your Porsche investment, your car will sit for extended time during the winter months. This lack of use can cause a litany of issues with the electric motors, hydraulic parts, structural parts, and weather proofing of your Porsche's top. You don't want to experience the feeling of getting your Porsche out for the first drive of the year and hear grinding and see fluid pouring out. Import Specialties has dealt with every type of convertible Porsche repair there is.
We want you to enjoy those sunny days without having to worry about your car's top. Nobody likes to get stuck in a summer rainstorm with the top down! Always keep an eye out for water intrusion in the luggage compartment, engine compartment, and the cabin. Finding leaks early can save time and money on later repairs. Electricity in particular does not like water. So, save yourself the cost of a new fuse box or control module, look out for water, and avoid this frustrating Porsche repair if you can.
Other Common Porsche Repairs
In addition to the Porsche repair issues we have detailed above, it is possibe you may also notice some of these common issues below in your vehicle. We are happy to assist diagnosing these problems and repairing them in a timely fashion.
Heavy Clutch Pedal
Overheating
Low or No Battery Power
Engine Oil Level
Water Pump Leak
Brakes
Suspension Noises
Engine Air Filter
Trasmission Issues
---
RELIABLE PORSCHE SERVICE PROVIDER
Import Specialties offers high-quality services for Porsche owners. We're dedicated to servicing your vehicle with an unsurpassed level of personalized service and technical Porsche repair expertise.
When you buy a high-end luxury vehicle like a Porsche, the cost of maintenance and repairs can easily become the last thing on your mind as you enjoy the spirited driving and peak performance this car offers. However, like all vehicle owners, Porsche owners must be prepared to spend the appropriate amount to fix and maintain their investment if they want it to run optimally and enjoy a long life. If you buy a sports car, always make sure you can afford the necessary love and care that it requires.
NOTE: Our company and our website are in no way directly associated with Porsche USA.