Land Rover Repair & Service
Keep your Land Rover running and operating as it was designed. We provide complete Land Rover service in Columbia, SC. From Land Rover warning light reset to basic Land Rover maintenance service, we ensure your Land Rover is in peak condition. We specialize in Land Rover repair & service both modern and vintage. We can source rare Land Rover parts and repair almost any Land Rover problem.
Our Services
Vintage Land Rover Repair
Import Specialties in Columbia specializes in vintage and classic Land Rover repair. We have the experience and passion to repair your antique vehicle. We can source many difficult to find parts and repair almost any vintage Land Rover problem.
Modern Land Rover Repair
As a specialist in British autos, we have the experience, skills, and training to service your Land Rover correctly. We know common Land Rover problems and how to fix them as economically as possible. That experience can save you money. And we can solve Land Rover problems that few other shops can.
---
Why Choose Us For Land Rover Repair in Columbia SC, Forest Acres, West Columbia, or Northeast Columbia??
Maintain the style and speed of your luxury car or sports car by bringing it to Import Specialties in Columbia, SC for Land Rover repair. As a full-service automotive repair shop, our certified mechanics and technicians are highly skilled at repair and service of Land Rover.
We have extensive experience in all aspects of diagnosis, repair, and maintenance of Land Rover vehicles. Using state-of-the-art equipment, our highly skilled mechanics provide workmanship you can depend on. Contact us and let us know your Land Rover problem—our Land Rover mechanics can handle any issue with these iconic British vehicles.
Inexperienced mechanics may claim they know how to provide Land Rover repair and service. Unfortunately, unless they have specific training and experience, they could actually cause more problems with your Land Rover. As an independent Land Rover repair shop, our technicians are fully trained to provide Land Rover repair service. From Land Rover problem diagnostics, Land Rover timing belt replacement, to Land Rover transmission repair, we do it all at Import Specialties in Columbia, SC.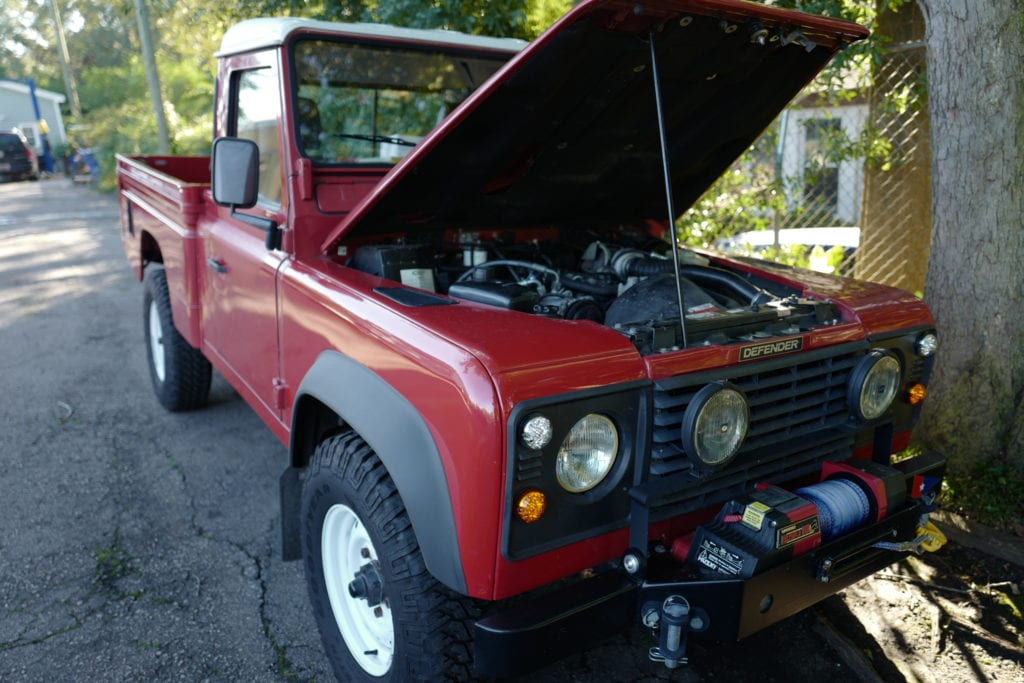 ---
Common Modern Land Rover Problems
Although Land Rovers are a rugged vehicle design, they definitely have more than their share of problems. Here are some of the most common Land Rover repair:
Land Rover Air Suspension Problems
If you ask any mechanic to rate Land Rovers based on their reliability, most will probably give them low marks. Land Rovers have been called many things, but reliable is not one of them! A common problem that Land Rovers share is their air suspension system. The purpose of air suspension is to improve Land Rovers ride quality. When customers purchase their vehicles, they are impressed with the velvet smooth ride, especially for an SUV. However, after a few years the Land Rover's suspension will begin to sag. We are very familiar with the air suspension system to get you back on the road fast and smooth!
Electrical Problems and Leaks
Land Rovers are notorious for electrical system problems and oil leaks. Common Land Rover problems include head gasket failure, heater core failure, oil cooler line leak and valve cover gasket oil leak.
Sunroof Water Leak
Another common problem is Land Rover Sunroof Water Leak due to pinched or blocked sunroof drain.
Parking Brake Failure
Customers have also reported parking brake failures and screeching sounds when the parking brake is used. Over time, the Land Rover's parking brake will get out of alignment and need to be readjusted.
Steering Shaft Problems
If you hear loud noises when turning the steering wheel, the steering shaft in your vehicle might be malfunctioning. Customers usually notice these problems while turning at low speeds.
---
Warranty – Your Land Rover Dealership Alternative
The primary difference between our Land Rover auto repair service in Columbia, SC and the Land Rover dealer is our pricing. But competitive pricing is not our only benefit. You will receive honest service advice, quality repair solutions, prompt service, and personalized, friendly customer attention.
Import Specialties of Columbia, SC offers specialized affordable Land Rover repair and service. We pride ourselves on our exceptional work and the personalized customer attention we provide. Please contact us to discuss your needs.